Capital investment can teach us lessons
South Wales Evening Post - 17 June 2014
Believe it or not, local government meetings can be an emotional business. Quite some time ago, I watched a senior council leader throw his papers to the floor and demand to know why Cardiff was allowed to "suck the life out of the rest of Wales".
Despite all the embarrassment, everyone in the room knew exactly what he was talking about. The capital has always been able to pull down a greater chunk of cash per head of population, simply because it's the capital.
You could see the same establishment forces at work when BBC Wales decided to relocate their headquarters to a 'speculative' redevelopment opposite Cardiff's main railway station. There was never any serious suggestion they would move out of the city – and why would there be?
We sit forty-something miles further west down the M4 and complain about unfairness. Yet it's really no more than success breeding success.
The phenomenal growth is not just a result of grabbing the national institutions and associated grants. Regeneration planners have also been remarkably astute in their use of public funding to make the place attractive to private investment.
This has seen 50,000 jobs in the finance & insurance sector alone and most of them in the city centre.
Getting there has not been a straightforward process either. Go back a couple of decades and the city was split right down the middle over the idea of a barrage across Cardiff Bay.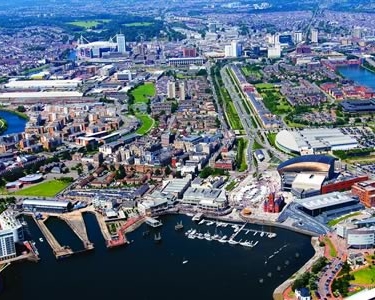 Cardiff: a money magnet with a mission
Leadership has played a big part in the journey along with a consistent message that the place is open for business.
The local authority was also influential in backing schemes to put a third of the city's retail core under cover despite changes in party control at County Hall. That last part has been a key factor and it is a lesson that Swansea must learn.
New master plans and strategies every few years may give politicians a warm feeling about the future. The trouble is they have the opposite effect on development groups who need long periods of stability in order to put together deals and get the right backers.
It is no accident that the only people able to develop in Swansea are non-commercial in nature. Even then, those with sufficient spending power have either decided to do their own thing or else moved eastward along Fabian Way.
Unlike Cardiff, we will be watching Premier League home games next season. But while we keep changing the goal-posts, we will always be playing catch-up when it comes to city centre development.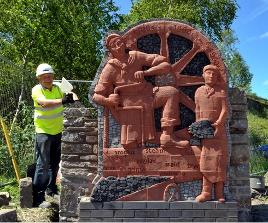 Living history and craftsmanship at Morfa
Giving the past a future
As I've mentioned before, I am fascinated by Swansea's industrial heritage. So the opportunity for a sneak preview of the Living History event held at Hafod-Morfa Copperworks last weekend was just too good to miss.
As we walked around the exhibits, organiser Prof Huw Bowen explained the ambition behind theCu@Swansea Project (Cu is the chemical element symbol for copper). It was marvellous to see the work that has already gone into restoration.
He tells me the plan is to achieve World Heritage status by using new mediums to focus on the role of people who helped the transformation of Wales and the international economy.
This approach continues the theme of innovation and advancement that has been a hallmark of our small corner or the world. Names like William Grove - who invented the fuel cell that later powered space shuttles – are part of our history.
I just hope this exciting and ambitious venture gets the support it deserves.
Enterprising times ahead
Continuing the theme of innovation, I was delighted to read that University of Wales Trinity Saint David (UWTSD) has secured top spot as a globally approved International Institute for Creative Entrepreneurial Development.
The IICED brings together an remarkable group of international experts able to offer up a new kind of policy-making perspective for devising best practice in entrepreneurial teaching, learning and evaluation.
I've been greatly impressed with how the university has broadened its approach to give students new opportunities in business. It was only a matter of time before they were recognised as one of the best higher education institutions in the country for producing successful graduate start-up businesses.
A while back, I heard Prof Andy Penaluna tell an invited audience of academics, assembly members and business folk how we can be wired to succeed. From what I've seen to date, and based on whispers of things to come, it's very clear that the university believes in leading by example.