Protest politics can be a dangerous business
South Wales Evening Post - 27 May 2014
There's this scene in the film, 'The American President', where the lead character delivers a lesson in essential politics to his audience as he explains:
"Whatever your particular problem is, I promise you, Bob Rumson [his opponent] is not the least bit interested in solving it. He is interested in two things and two things only: making you afraid of it and telling you who's to blame for it.
That, ladies and gentlemen, is how you win elections."
Sounds familiar, doesn't it.
Over the past weeks I've been assailed by leaflets & broadcasts from all the parties urging me to use my vote to 'send a message' to the government or to the opposition or to Brussels.
A part of me understands the motive behind the rhetoric. What bothers me is the presumption that I can only serve a useful purpose by voting against something or someone.
Protest politics can be a powerful thing. Just ask Nigel Farage.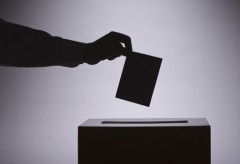 I've watched news presenters trying to give the impression that they've seen it all before. They haven't. Not on this scale.
Neither can any of them adequately explain the popularity of a party with only a sketchy outline of actual policy supported by candidates that defy stereotyping.
Yet should the media or the main parties be surprised? Having highlighted protest politics themselves for so long, it was inevitable that the anti-establishment chickens would eventually come home to roost.
I read elsewhere that people have been looking for a way to express their discontent with a political class made up of self-serving right wingers with off-shore interests or a left of centre full of people ready to brandish a placard at the mere suggestion of impropriety. Maybe so.
For me, it was Liberal Democrat MP Lyn Featherstone who best summed it up when she observed how modern politics has become so guarded and so on-message that it has lost the human touch.
I'd go a step further and say that more and more people no longer think that politics makes a difference to their lives. That's called disconnection and it's a dangerous place to be.
As the old saying goes, the unfortunate thing about political jokes is that they have a habit of getting elected. Of course there comes a stage when the laughing stops. By that time however, it's usually too late.
That's my message.
Broadband remains the weakest link
A week or so ago, I went along to an early morning briefing organised by the South Wales Chamber of Commerce, where I learned two things.
First, that the breakfast waffles in the Aberavon Beach Hotel deserve a culinary award in their own right. Secondly, that the roll out of the Welsh government's Superfast broadband fibre network is actually designed to fill in the gaps left over from 'targeted' private sector investment.
The problem however is that the commercial provider has not quite kept up to speed. Representatives from BT had to admit that business customers in areas like Baglan Energy Park who should already be enjoying better connectivity are lagging behind residential households located half a mile away.
Since then the telecoms giant has announced that it plans to create up to 190 engineering jobs in Wales to crank up its broadband installation.
Claiming back High Street
I was delighted to see plans submitted for the second phase of the Swansea Urban Village scheme. No surprises either at the imaginative design proposed by architects Holder Mathias.
The masterplan ticks all the right regeneration boxes for me. A 30,000 sq ft development comprising 76 apartments, commercial space, plus retail and food outlets, all linked by courtyards is what High Street needs. It's also great to have Kings Lane reopened as a thoroughfare.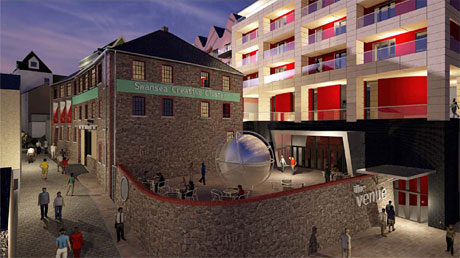 Housing associations have made an undeniably positive impact on the city centre. What I like about the Urban Village though is the visibility and accessibility of its best features.
I was very taken with the statement by Ian Couzens, interim director of development at Coastal Housing, who said the idea was to make High Street a destination in its own right once again.
Not a minute too soon in my opinion.