Getting into the business of improvement
South Wales Evening Post - 8 April 2014
Say it softly, but the signs are that town centres are making a quiet comeback.
Research by accountancy firm Deloitte has found that about a fifth of stores affected by the collapse of the big retailers remain vacant. The good news however is that High Streets are outperforming retail parks and shopping centres when it comes to re-occupying empty shops.
Before anyone reaches for the bunting, I should add that this health check only moves town centre retail from the 'critical but stable' category to 'poorly'. There are also regional variations which has Wales faring less well than other parts of the UK.
A further reality check for anyone hoping for a sudden growth in chic boutiques & fashion outlets is that discount and pound shops make up 20 percent of the reopened properties with convenience stores expanding just as strongly.
Having pretty much downplayed the good news, I'm nonetheless hopeful that growth will continue. What's needed now is a bit of commercial pragmatism to move this fragile situation forward.
There is no doubt in my mind that Swansea has benefitted substantially over the years from having its own Business Improvement District (BID).
Launched in 2006, the self-funded organisation is managed by and on behalf of the city centre business community. Their remit is to deliver services & initiatives that reflect the membership's priorities.
I had seen the Business Improvement model in action a few years earlier while visiting the South Houston (SoHo) district of New York. This was during the period that former mayor Rudy Giuliani was going about his transformation of the city.
The experience made the initial spadework a bit easier when Sue Essex, who then had the Welsh Assembly environment portfolio, said she wanted to try the idea here.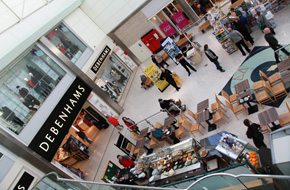 Improvement is the commercial key
It's to the credit of my successor that the scheme got off the ground although it is the members who have made it thrive.
Basically speaking, the concept is one of businesses collectively funding improvements that supplement rather than replicate the services provided by local authorities.
So forgive me if I'm a bit puzzled by the 'arrangement' whereby city centre stores are now supposed to cater for customer's personal needs following the latest round of public convenience closures. But maybe that's a question for another time.
I'm glad to see that Neath is now also looking create its own improvement district. It's a logical step in my opinion and I'm certain that close collaboration between traders and Neath Port Talbot council will bolster forward-looking regeneration plans for the town.
The experience of participating towns & cities is you can move things forward by tapping into expertise among members. That said, you can also quickly get a bureaucratic disaster if you don't have the right people taking a lead.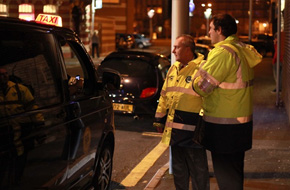 Swansea's taxi marshals - doing the business
Russell Greenslade, who heads up the Swansea BID, has a background in marketing. No surprise then that the Big Heart of Swansea brand he helped launch a while back has already reached over 2.5m people. I'm told there are over 100,000 city centre loyalty cards now in circulation with more than ninety businesses providing offers.
For me one of the big success stories among the BID's initiatives has been the taxi marshals. While media headlines tend to depict the city's night-life in lurid terms, the experience of someone helping you safely to your cab is a big plus with visitors.
If life is truly returning to our High Streets then local authorities could do no worse than start to take a leaf out of the BID book.
One example would be to start thinking in terms of having a less concrete paving in the city centre and a few more shop-front awnings.
Such modest new features might not win any design awards but I'm sure they would win back a few shoppers.