Regeneration is picking up - but who pays?
South Wales Evening Post - 4 Febuary 2014
There are some things in life that seem to be constant, like death, taxes and never hearing two builders agree on anything. Although on the last one it has to be said that viewpoints depend quite literally on whether you're buying or selling.
The UK construction sector is widely seen as a weathervane of economic prosperity. Yet like many industry watchers, I find that you have to pick your way through confusing and often contradictory pointers.
All the current trends appear to be going in the right direction.
Latest figures from the Office for National Statistics admittedly show a slight dip in activity but the overall situation is positive.
Having said that, I'm not sure if we can entirely rely on the upbeat message from the Construction Skills Network (CSN) who recently forecast the building industry in Wales could grow 3.4 per cent annually in the next four years.
They reckon that a series of major infrastructure projects will bring around 18,000 construction jobs. What others in the business are asking is where all the new capacity is going to come from.
A further question is how this stacks up with projections that the lure of bigger wage packets from contractors building the Hinckley C power station, just across the Bristol Channel, will bleed Wales of skilled construction workers over the same period.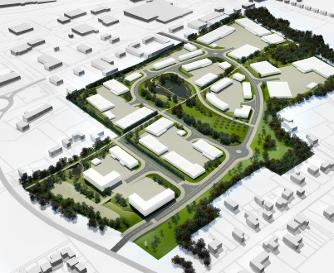 Cross Hands East SES project - looks like a winner
Regionally, it's evident that our part of Wales is on the receiving end of a steady stream of capital programmes. Fresh investment has come recently in the form of sizeable expansion plans announced by the University of Wales in SA1. There's also a £9.6 million government injection for regeneration projects in Port Talbot town centre plus £8.4 million available from the same pot for Swansea.
Another scheme that caught my eye is the Cross Hands East project, a strategic employment site recently commissioned by Carmarthenshire Council. I'm betting that this mixed development site located at the West Wales gateway is likely to make its presence felt in coming years.
It's been estimated that each of us moves home at least six times during our lives. Popular focus therefore — not to mention financial sector interest — tends to be towards the residential side of the industry when assessing business confidence.
I read last week that the National House Builders Council recorded 133,670 new homes built last year. This is a 28 per cent increase and the biggest number since before the recession kicked in across the industry.
It would be a mistake, however, to think that the good times are back. Major players like Persimmon claim they still cannot make enough profit on developments north of Pontypridd. They not only cite low sale prices outside South Wales but also blame Welsh Government building regulations, which they say can add up to 3,000 to the cost of building a house compared with many parts of England.
One measure increasingly used by some house builders to offset additional costs is to offer home buyers a kind of no-frills package whereby the standard facilities, like fully-maintained roads, pavements and street lighting come as an extra.
I know that councillors in my locality already view the prospect of new estates springing up without fully adopted facilities as creating a future legacy of disrepair. It's anyone's guess how this is going to be resolved, if at all.
The construction industry maintains what is probably one of the largest lobbying presences in Westminster and more recently in Wales. They spend a considerable amount of time and resources in getting their message across to governments.
So far the public spending pendulum has swung in their favour but while there's no doubting the real link between construction, regeneration and economic prosperity, I also think it's important that we keep a sense of perspective as to how this translates into actual community benefit.