Putting out the word about poor quality
South Wales Evening Post - 21 January 2014
I'm in a pretty foul mood. The reason for my bad disposition is that I'm obliged to waste time and effort this week on a fruitless task. The problem is that principle is involved and I can't let it drop.
Last summer we decided that it was definitely time to do something about the kitchen cupboards. We opted for new doors, replacement drawers, a new cooker hood and an integral dishwasher.
I try to use local firms for work on the house whenever I can. I've found it's convenient and usually cost-effective.
The firm we eventually picked weren't cheap but they came recommended and did a quality job. The fitters and electricians finished their work in less than three days. We had the obligatory 'before' & 'after' pics ready for sharing on social media (as you do).
The only problem was the new dishwasher. By that, I mean it's noisy. Actually, it emits a vibration noise that sounds like we're drilling for shale gas using a vacuum cleaner.
The firm sent round their odd-job guy. He was likeable enough and he was sure he could fix the problem. He couldn't.
After a few attempts involving bits of wood and an old towel, a service engineer from the manufacturer was called in. The dishwasher obviously recognised him and quietened down a bit from its usual crescendo level. Even so, it was bad enough for an admission that something was wrong, although he thought maybe the installation was at fault.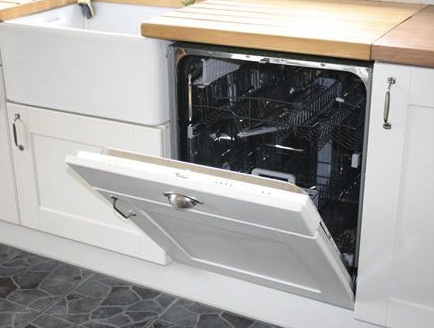 a reputation for poor quality soon gets around
Looking back, my big mistake was that I never insisted from the outset on having the odd-job guy and the service engineer in the kitchen at the same time. When I finally I managed that feat the 28 day time limit for reporting a fault to the manufacturer had lapsed.
As it turned out, we then discovered that the kitchen firm had delivered the wrong model. So everything was fine and I'd soon be getting a new dishwasher, right? Hell, I'm just the customer. What do I know?
The first replacement that arrived was identical to the original – and not to the specification I'd ordered and paid for. The second was some obscure single programme model normally only available in Poland.
I felt I'd reached a crossroads. I told the firm that I was thinking of getting an alternative dishwasher from elsewhere and billing them accordingly. Within a few minutes, one of the firm's owners was on the phone giving me significant grief for turning down "three perfectly good dishwashers".
Up to that point, I'd managed to stay as Mr Affability in the face of rotten after-sales service. The bad attitude coming down the phone changed things and prompted some loudly expressed opinions on my part.
Things eventually got resolved but when I went to share the news with the fitter who I'd left struggling with a set of instructions in Polish, I found he'd packed up and legged it to his van in case I emerged from the living room wielding an axe.
Anyway, the revised deal was that I'd get a top of the line replacement and could expect a call in a few days advising when this would happen. That was last October.
As you've guessed, I heard nothing. I made several calls of my own. No-one has picked up. In fact, I got the distinct impression that my number had been blocked. I've since sent emails and even attached a video recording of the problem. Nothing.
So now I'm headed for County Court, or the Civil Justice Centre as it's now called, to register my claim against the firm. I've done all the prior stuff like sending a letter of intent via special delivery requesting remedy.
I feel sure that I'll win my claim and I'm equally sure that the firm will ignore the judgement. I'm going to be out of pocket in replacing a defective dishwasher that strikes terror into our cats every time it's used.
Disappointment aside, none of this is going to change my habit of using local firms. As it happens, the electricians I mentioned have since done a few other jobs for me.
It's my experience of our local economy that word of a good reputation for quality will soon get around. A bad one will spread even quicker.