Change very much on the agenda a Cardiff Bay
South Wales Evening Post - 14 January 2014
The Welsh Government has an interesting year ahead. There's a packed policy program with more initiatives than you can shake an agenda paper at.
That in turn means a lot of committee time at Cardiff Bay spent looking at whether ministers are delivering on their commitments.
Among measures to be put under scrutiny is a support package for small and medium sized companies in the building industry.
The Construction Sector Development Fund will provide grants of up to £50,000 for firms seeking to win new business.
There's no doubt that house building in Wales is gathering pace.
A survey this month found a substantial increase in the number of surveyors predicting more activity.
I've found things are little different on the ground. Firms I've met recently are nervous over impending legislation that could affect future growth.
One example is the ongoing arguments over proposals to control development on land prone to flooding.
The drastic scenes of the last month have highlighted how we need to think seriously in future about where we build and the level of protection to be given to householders and businesses.
It's not just a case of sponsoring capital projects like the massive riverbank work currently in progress at Swansea Vale.
The Assembly's own Environment and Sustainability Committee reckons that Japanese knotweed which plagues the Welsh countryside is also contributing to flooding problems.
They want the Welsh Government to publish an action plan on tackling the issue. The construction industry wants to know how much it will all cost.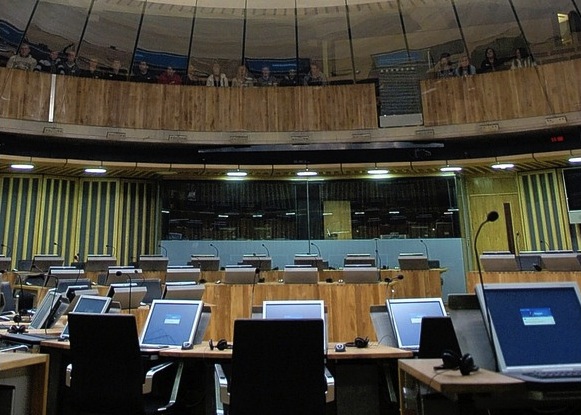 busy time ahead for the Senedd
Another issue getting committee attention is the impact of the new Enterprise Zones. The view of the Finance Committee is that ministers need to clear up the "air of mystery" they say surrounds this economic measure.
Their verdict so far is that the approach is big on ambition but coming up short on results – or at least an understandable means by which results can be checked.
The big one on the horizon however is the report of the Williams Commission, officially known as the ''Commission on Public Service and Delivery'', and which, among other things, is going to inform the future shape and role of local government in Wales.
Everyone anticipates a reorganisation that involves fewer local authorities.
That said, councils don't really expect a joined-up solution, which will result in us being better served, any more than a succession of organisational makeovers in the health service has left the nation healthier.
Few people can even attempt an explanation as to how the present arrangement of 22 all-purpose unitary authorities was determined.
All we can hope for this time around is for something more objective and understandable.
I've read that it won't just be service delivery considerations that decide the size & number of councils. Ensuring that localities stay broadly eligible for EU funding will also be a factor.
I'm sure we'll see more of this pragmatism in other recommendations.
Quite a few local government powers were hived off elsewhere in the 1980s and never came back. Some would argue that the arrival of devolution consolidated that arrangement with a democratic overlay. I suppose the same people will say that our schools & education services would benefit from a benign form of centralisation.
The jury is still out as far I'm concerned.
I'll concede that bigger can be better in the right circumstances. If anything, the experiment of placing decentralised services out in the community is no longer affordable or even necessary when you can get your localism on-line and on a 24/7 basis.
Things are definitely changing and the public sector inevitably has to change with them. Needless to say, not all of it is going to be for the better.