Slip sliding away - losing our heritage?
South Wales Evening Post - 17 December 2013
I never tire of catching sight of Swansea Bay, no matter what the perspective. There's always a special delight in seeing the sweep of the coastline as it comes into view.
Sat in my car waiting at traffic lights the other day, I was straining to look around this great lump of stonework preventing me from getting a glimpse of the waves. The unnecessary obstruction was one of the abutments of the former Slip Bridge.
To be honest, I'm not sure if I miss this former landmark or not. Essentially it's something from my childhood, where I raced my cousins across its length to get to the beach — or the 'bays' as we used to call the stretch of sand at the other end.
Growing up in the east of Swansea, it was one of the familiar milestones during family outings to Mumbles and Bracelet Bay. On homeward trips it marked the point at which you could eat chips bought in Dick Barton's without getting a burnt tongue.
I remember being told a while back that the arched structure spanning Oystermouth Road was actually named Victoria Bridge but I've never had that confirmed by anyone. The plaque on one of the abutments clearly states 'Slip Bridge' although it looks to be in darned good nick (the plaque, I mean) for a piece of metal that has been there since 1915.
The past 10 years has witnessed some entrenched argument over why the bridge came down and why it never went back. I'll tell you those bits I know about first-hand and then you can make up your own theories.
A planned restoration for the 88 year-old structure — as it was in 2003 — had been in the pipeline for a while. So it was straightforward stuff when a briefing paper came to the cabinet stating that work was to be the next year's programme.
The only consideration was either to do the work with the bridge left in place or else move it to a nearby location.
Unsurprisingly, it was the second option that got the vote as this action avoided up to 18 weeks of lane closures and horrendous congestion. Around £360,000 was set aside for the work. Much of this background was downplayed by the local media at the time.
There was a lot more interest within press and political circles on making a hoo-hah about alleged poor maintenance. Anyway, the following March saw the bridge lifted off its supports and shifted to the recreation ground for a more detailed assessment prior to initial repairs.
A few months later a new political administration received a further report warning that refurbishment costs would be closer to £1 million. As we know, the process that followed resulted in the Slip Bridge eventually ending up as a foreshore feature.
Of course matters didn't end there and campaigners have lobbied long and hard since for its reinstatement. For myself, I've never quite understood why an alternative proposal to build a replacement crossing using more modern materials came to nought.
Looking at the scale of impending cuts facing Swansea Council today, I can imagine that paying for a new bridge probably sits somewhere below mounting a moon landing in the local authority's list of spending priorities. That's understandable. Yet I look at the imaginative work done at Oystermouth Castle using Heritage Lottery Fund monies and it seems that there could be a workable and less costly solution available.
It's not as though we're short on suggestions either. I was very taken with the design exercise recently shared by a local firm of architects who suggested a new futuristic footbridge with an observation area overlooking the bay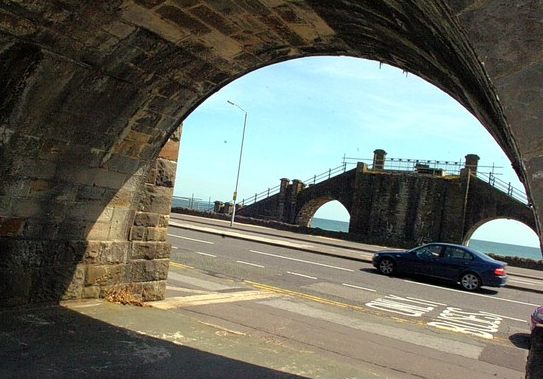 I'm sure that many people will say that the practical thing is to remove the old abutments. Put bluntly, these stairways to nowhere look silly and give the sea-front an unfinished, unkempt look.
I've recently spotted one comment in the Local Development Plan suggesting the stonework could go towards strengthening sea defences. It would represent a kind of sustainability I suppose.
Personally though, and just to see what comes out of it, I'd much rather if work was done in revisiting the Swansea Bay Strategy and looking at whether a bid for new Slip Bridge would be a viable step in furthering the region's tourism offer.
Either way, a decade of inaction needs to be brought to a close — and if nothing else it would be more meaningful work than designing boulevards.