Planning still needs to be about people
South Wales Evening Post - 10 December 2013
SOMETIMES you don't really need to finish a sentence to signal something. For example, when Baldrick turns to Blackadder and says "I have a cunning plan," the expected outcome is fairly predictable
Likewise, when the Welsh Government announced it was going to look at new legislation to reform the planning system, a lot of people in the industry started preparing for the worst.
I've just finished answering a sizeable questionnaire linked to a consultation document, Positive Planning which accompanies the draft Planning (Wales) Bill. Fascinating stuff eh? I can already feel you getting ready to turn to the next page, but bear with me a bit longer.
To my surprise, I gave the most of the proposals a thumbs-up. On the other hand, I'm left with the nagging feeling that the discussion on significant changes likely to affect the lives of pretty much everyone in Wales is largely going on within a professional bubble
Don't misunderstand me. Wading through reports the thickness of a house brick and condensing the contents into bite-sized bits of (hopefully) useful information is how I try to earn a living. Complexity comes with the territory. It's just that I also happen to think that people on the receiving end of reform should get a jargon-free account of how they're likely to be affected.
We can usually rely on a free press to fill that particular gap. However, the anorak in me was slightly peeved over a media slant which keyed in on how planning powers on controversial wind farms being taken away from local councils.
As campaigners either side of the renewables debate already know, wind energy schemes producing over 50 megawatts are already determined by the UK Government, and not local authorities. None of that is about to change.
I suppose the prospect of ministers deciding on "developments of national significance" makes for better headlines than a few bread-and-butter changes to the planning regime. But what fell under the media radar was that the Welsh Government wanted a substantial culture change within planning authorities.
Out will go the approach where the effect of an individual development on services is a consideration. In comes a new emphasis on what the white paper calls the fundamentals, which means concentrating on how land is used and developed.
I can understand where the government is coming from. Something is needed to unblock the current mind-set. A new focus on development management (rather than control) can only be a good thing in some planning departments where granting permission is almost regarded as being an accomplice in a victimless crime.
Of course, each planning application has a potential impact on someone. So it's encouraging to see a future obligation for developers to hold what's called pre-application engagement.
This is basically letting the local community know about a development well in advance. You may not like the idea of someone wanting to put an abattoir close to your home but at least you won't just get a few weeks warning after a notice goes up on a nearby lamp post.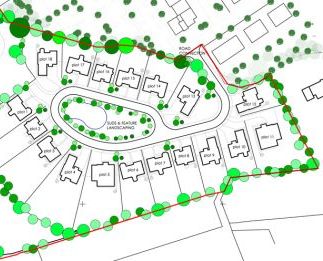 A phrase you will often hear in the council chamber is that 'planning is about people'. It's a nice thought. The practical reality though is that planning is essentially about a presumption in favour of development and deciding whether each application complies with appropriate policies.
It's true that a proportion of councillors and councils occasionally depart from these guiding principles, although I'd argue that they rarely do so without the explicit backing of the communities they are elected to represent. Reforming the planning system is unlikely to be a walk in the park.
The government has to address concerns from the construction industry, which claims existing regulations already make it £60,00 more expensive to build a house in Wales than England. At the same time they have to placate an environmental lobby that thinks a lot more should be done in terms of sustainable development.
Change is undoubtedly needed. Having better regional working, more standard practices and properly trained planning committees makes a lot of sense.
The only warning I'd sound at this stage is over the suggestion of an planning advisory service to oversee improvements. The one thing that the public sector in Wales doesn't need right now is another government inspectorate.