Universities facing a very different challenge
South Wales Evening Post - 29 October 2013
Against the current backdrop of austerity, tuition fees and enforced mergers, it's tempting to think that higher education in Wales is on a slippery slope.
That might be true elsewhere, but my take is that our part of the world could well get the benefit of having two institutions capable of making their mark on the regional economy.
In times past, town & gown relationships in the Swansea Bay area were a genteel sort of arrangement. You had the mutually respectful nods of acknowledgement between academic and civic communities not much else.
All that began to change about fifteen years ago. New partnerships grew out of a sense of common purpose and the need to grasp investment opportunities as they came along. The process of evolution through necessity has continued ever since.
Universities have steadily out-pacing local authorities in terms of strategic achievement. In my opinion they are on the cusp of becoming the big hitters within our regional and local economies.
The key focus for Swansea University has been their aim to join a global network of academic & commercial research facilities. Building up the right expertise and resources on the ground has created the necessary foundations for success.
None of this has happened overnight, of course. Moves to forge closer links with scientific industries began a decade ago. Around that time I was fortunate to accompany a small team who met up with specialist firms based in San Diego, which has the reputation of being the biotech capital of the world.
It's true to say that these initial discussions, led by Prof Gareth Morgan, resulted in the founding of the Institute of Life Sciences at Singleton - now Wales' premier purpose-built medical research facility.
The open innovation model adopted at ILS is all about collaboration and how to boost private sector interest. It's an approach that has been praised by the European Commission as an example to be followed by all member states.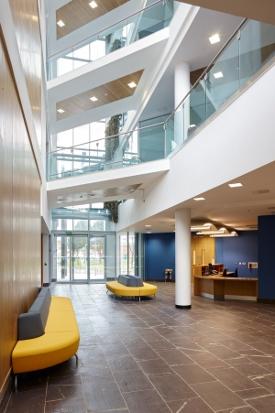 global links : ILS is just one example
The same "win-win" thinking underpins the university's new Bay Campus at Fabian Way. Yet no-one should underestimate the scale of the ambition involved. What is currently under construction is intended to be the home of the largest knowledge economy project in the UK and one of the top in Europe.
Speaking at the recent City Regions conference, Prof Iwan Davies emphasised the real-term benefits of locating clusters of hi-tech companies close to universities. This not only generates an 'innovative synergy' that can benefit world-class research but also helps build a capability to make new ideas and products commercially viable from the outset.
As much as I sign up to this approach, I also found myself nodding when a delegate put forward the view that it's not enough for an enterprising university culture to trigger inward investment. There also has to be a strong academic agenda that can help foster indigenous economic growth.
Clearly this is going to be vitally important component in economic recovery, and as you might have read yesterday, the recently merged University of Wales Trinity Saint David (UWTSD) is already getting recognition as a world-leading authority on enterprise and entrepreneurship education.
Having a senior UN official on campus for a collaborative project work fits in neatly with the outlook explained by vice-chancellor Prof Medwin Hughes. The mission is not just about having to adapt to survive but spreading the knowledge in the same way that you should spread the wealth – for the benefit of the entire community.
The university, part of which was formally Swansea Metropolitan, actually dates back 160 years as an academic institution but it's always had a distinctly contemporary outlook. Then again, I could be slightly partisan given that I'm one of the generations who have emerged from its doors armed with the requisite skills and qualifications to start a career.
Biased as I might be, I think the university deserves recognition for continuing to match investment in academic excellence with its commitment to regenerating the city's much-loved historic buildings for new uses. I'm told that up to £30 million has gone into the city centre alone.
Among the refurbishment projects is the old Central Library on Alexandra Road where the imposing Victorian building is set to become the new base for the university's School of Industrial Design. The former Land Registry at High Street is destined to be home to the Faculty of Business and Management, joining the, the Dylan Thomas Centre and SA1 Technium buildings as component part of a very sizeable urban campus.
I'm delighted to hear that the Dynevor Centre for Art, Design and Media is teaming up with the Swansea Business Improvement District to make use of a city-centre property to launch its 'Creative Bubble' project. I look forward to seeing this initiative thrive as it evolves.
I remember having one of those serious discussions that tend to happen near the bar as business functions come to a close. A senior director in an international engineering firm told me that he was a lot less interested in having commercially successful universities as getting well-rounded graduates capable of becoming the new generation of entrepreneurs that Wales needs. My view is that we are remarkably close in this locality to achieving a potential to fulfil both outcomes.
But if there is a note of caution to be sounded then maybe it should be to ask that if universities are able to exert such direct influence over our health, our livelihoods and our social wellbeing, then should the only accountability available rest solely with a minister in Cardiff Bay?
It's a challenging question but one that should not be left unanswered for too long, I suggest.