Conferences showcase Swansea Bay's potential
South Wales Evening Post - 22 October 2013
Someone once moaned to me that conferences & seminars are like buses. You get nothing for a long time and then they all arrive together. Suddenly I know what they mean.
Last week I was struggling to do the rounds of half a dozen different events all of which were happening in the Swansea Bay region. What attracted me was that they shared the common theme of growing the local economy. It's quite change from just a year ago when the focus was almost entirely on survival.
The week kicked off with a private briefing staged by an investment consortium. They've been looking at how purchasing practices by larger public bodies will benefit the local private sector. I was impressed to hear how they thought businesses in the region were well placed to get a good foothold on the supply chain
Tuesday saw two events at either ends of the Welsh government's economic regeneration spectrum. The first was held in the Meridian Tower where stakeholders got to hear details of Swansea's Viable & Vibrant Places bid. This is a central funding package, which the city hopes to tap in to for its job creation and construction projects.
The overall feedback was positive and there's no arguing that £15 million is a lot of money. Yet to put things in perspective, a single housing association is currently spending £45 million on schemes in just one section of the city centre. Their investment is similarly aimed at producing new residential, retail and commercial properties. Linking up strategies is therefore going to be essential.
The other seminar was organised by Regeneration Wales. Just over sixty delegates gathered at the Dylan Thomas Centre to learn how Business Improvement Districts can boost local economies. A series of speakers, including Swansea's Juliet Luporini gave their take on how business can make its voice heard where it matters.
Wednesday brought several hundred visitors from the UK and Europe at a two-day Maritime conference at the Waterfront Museum. I have to say that it's good to see Swansea getting back on the international conference network.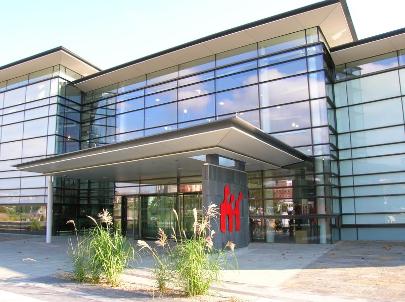 Waterfront museum - an excellent conference venue
Speakers from Scandinavia had a lot of expertise to share and Geir Klover, director of the Fram Museum in Oslo, grabbed some attention when explaining the multiplier effect of heritage tourism.
Like a good few others present, I was still figuring out how Wales could capitalise in the same way when economic minister Edwina Hart took the podium to explain how this approach was already happening. Her upfront answers to questions from a professional audience were quite a talking point over coffee.
No good conference should be without its 'social dimension'. Accordingly, there was an evening of poetry & performances at the Queens Hotel, Schooner Inn, Pumphouse and elsewhere to celebrate Swansea's maritime past.
I managed to check out a few venues – purely for research purposes, of course – and I can report that delegates embraced the occasion with considerable enthusiasm.
Although other commitments prevented me from returning on the Thursday, I was able instead to pop into the Liberty Stadium for the Tidal Lagoon Open Day. Around 200 people did the same. We heard a series of professional presentations provide insights & feedback on environmental and engineering issues.
Undoubtedly the key event of the week however was Friday's Swansea Bay City Regions conference hosted by Neath Port Talbot council at the Towers hotel.
The theme centred on growth and collaboration to provide the joint impetus for future investment. High powered speakers from higher education, industry and the property world all had examples to share.
The stakes are considerable yet as several speakers such as Anwen Robinson of Unit4 software pointed at the pre-conference dinner the previous evening, so are the potential future rewards if the opportunity is grasped to move the southwest Wales region forward.
The day provided an excellent opportunity to showcase what is already happening in Neath Port Talbot. It must be said that it was also a minor technological triumph as chief executive Steve Phillips & staff juggled the logistics of the day with a live link to the official opening of the £107 million Harbour Way project by First Minister Carwyn Jones.
Perhaps it's stating the blindingly obvious but political support is going to be vital to the success of this City Region enterprise and nowhere more so than on the ground. This led me to ask each of the council leaders during a Q&A panel what it was that they brought to the party.
It felt momentarily that this was the first time that anyone had actually put the point to them. Nonetheless, Swansea council leader David Phillips was unequivocal in his view that his role was about enabling the private sector to deliver.
What he spelled out is that it is no longer acceptable for someone to work solely in the 'best interests' of the local authority if their efforts fail to recognise or support the wider needs of the local economy.
This statement will come as music to the ears to developers who have often wondered if planners and other council professionals have even heard of the corporate priorities set by their political leaders, let alone bought into them.
During the break, I overheard a few comments about whether a City Region could work or was even relevant. I spotted that the doubters were taking notes along with everyone else as Prof Iwan Davies of Swansea University later talked us through his pragmatic route map showing how the new Bay Campus was already on the way to becoming an "innovation hotbed". More on this next week.
No one is suggesting that the local economy is anywhere near being out of the woods. There are huge challenges facing the public sector and a question mark as to whether our region can attract sustainable levels of private investment. Yet it's hard not to pick up on signs of growing optimism and confidence.
It was busy week and probably too much in such a short space of time but it was nevertheless great to see the region getting back into the habit of doing the business.