When innovation is no more than reinvention
South Wales Evening Post - 15 October 2013
"Innovation" is one of those buzzwords you can always expect to hear from the podium at business seminars. Every speaker has an example to offer but I often feel the definitions get a bit blurred.
On occasion, what gets passed off as innovation is really no more than re-invention.
This came to mind at a recent Federation of Small Businesses event where Swansea's regeneration cabinet member Nick Bradley was outlining the scale of the economic challenges facing the region.
No one was left under any illusion about the problems or his commitment to find a fix. Yet what made the biggest impression on me was his upfront admission that the council needs help from business stakeholders to order to rescue a failing city centre.
I make no apology for returning to this subject.
In the months since I began writing this column, business and community leaders have consistently told me how they believe the key to regional success is a thriving commercial hub. What has struck me most however is that a good proportion of the people making this same point are located as wide afield as Cross Hands, Pontardawe and Baglan.
It's not hard to figure that the catalyst for the council's recent move towards a more inclusive approach stems from the demise of its deal with retail developer Hammersons to build a major new scheme at Oystermouth Road.
This outcome was hardly a surprise and I know that I wasn't alone when I wrote back in August how I believed the arrangement would probably lapse and that investment in Parc Tawe made more medium-term commercial sense.
If there are lessons to be learned in this instance then its that the days of big-bang developments are over plus that key players need to accept some obvious truths before coming up with an alternative solution.
The first of these truths is that there is no set of circumstances that would induce Tesco to give up what must be one of their best trading locations in the country – unless it was to offer them a site across the road. A more realistic outlook is to consider how best to evolve a mixed development around them and create a new commercial district within the city centre.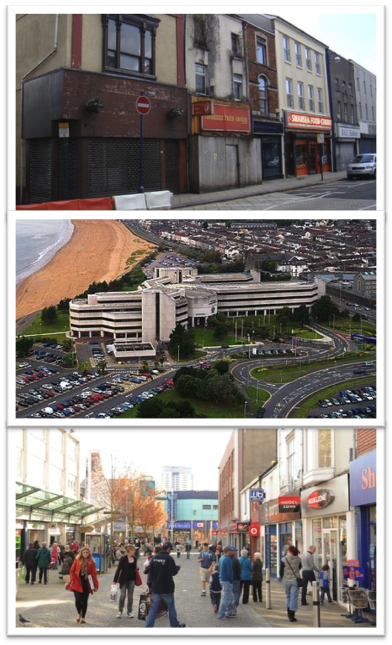 city image: change must come from the top
I'm greatly encouraged to see Coastal Housing putting up their hands up to help provide an input. Their Urban Village development in High Street and the Castle Quarter scheme shows how thoughtful design and imaginative commercial packaging can achieve an attractive blend of retail, accommodation and quality office space.
One thing I'd say though is that I really do hope that Swansea Council performs a quick rethink on the idea of a design competition. My experience elsewhere is that they're costly, hugely divisive and very seldom produce what the development market thinks is workable.
Local authorities are supposed to be enablers. They may be the dog's whatsits at designing schools and libraries but it really is time to stop thinking that things will happen in Oystermouth Road and the wider city centre because strategies are published in some glossy document which then get signed off by the politicians.
If Swansea is serious about taking stakeholders' views on board then they should begin by listening to the voices that say the council can no longer expect to have the penny and the bun when it comes to its leaseholds. You don't promote third-party development investment by screwing money out of rentals and that's a fact.
There is also a fairly urgent need to face up to industry concerns that 'sustainability' is rapidly becoming an expensive fashion trend favoured by the public sector that will add to development and maintenance costs. These worries may be ill-informed but they're out there nonetheless.
But the number one gripe I get from the business sector is the damaging effect to trade & investment caused by an endless succession of traffic 'improvements'. Some traders tell me they think changes to the system should be reversed but the majority simply want an end to the current obsession of digging up perfectly good roads for no apparent benefit.
Listening to Nick Bradley, you get the impression that moving the city centre forward will not just mean a change in culture but quite likely a change in personnel. That will be a tough call. Yet I think I sense the political will is there and that's a good start.
Of course, gearing up to make the city centre attractive to investors is one thing. Doing the same for visitors, traders and residents means looking very seriously at how the place is currently managed and marketed.
At present we have a Business Improvement District (or BID) plus a city centre management function and a cross-sector City Centre Partnership. The overlap is considerable and it's definitely time in my view that these operations were merged into a single body. There is also a compelling argument that resources & representation should be drawn from the wider business community.
I've recently been reading how a policy think-tank feels that powers to control car-parking, public conveniences and even pedestrianisation schemes should be transferred from local authorities to new city centre corporations.
That could well be a step too far for a lot of people but I think it's the kind of advance that should at least be up for discussion.
In the meantime, all I'd ask is for whoever is in charge to ask themselves whether paramilitary-garbed litter wardens in stab-proof vests is really the kind of image we really want to present to city centre visitors.
Sometimes, too much innovation can be a bad thing.