Shopping around for success - Part 2
South Wales Evening Post - 13 August 2013
OK, I'm going to kick off by upsetting a few people and say that one of the most ludicrous things I've ever heard is that Swansea should avoid comparing itself with other towns and cities.
Don't get me wrong. You'd be hard pressed to find someone prouder of our unique city, but I also ask how you can possibly hope to improve if you never apply a benchmark of some kind?
Last week I listed the challenges facing Swansea's city centre.
While a few require serious resources to make changes, others only need comparatively low-cost measures. Many of these can be copied from retail centres elsewhere and we don't have to look very far afield to find them either.
Carmarthen has reinvented itself as a town centre in recent times. Admittedly some of the redevelopment has been controversial but they seem to have got the balance right.
For me it's the small touches that make the difference like the awnings and covered areas that help shoppers cope with the West Wales weather.
This kind of clever improvement can be easily reproduced in Swansea but what local retailers and businesses repeatedly say to me is that the way to bring back shoppers is to get proactive over access and car parking.
I don't think that Swansea wants to be anti-motorist and I'm encouraged by the political messages about how the city should no longer be dominated by the highways planners. What we need now is evidence that this is happening.
For example, would it be sacrilege to re-open part of Princess Way to allow chevron parking with a maximum two-hour stay?
What we have at present is an expanse of grey paving which is basically wasted space surrounded by empty shop frontages.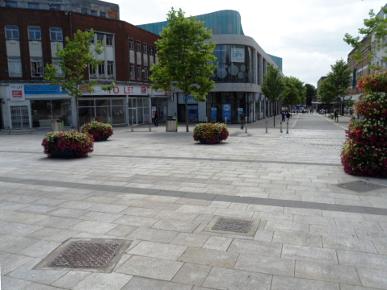 wasted space: chevron parking would bring back life
I put this suggestion to Swansea Bid chief executive Russell Greenslade. He readily agrees that this small investment could make a big difference in footfall and bring customers back to a part of the city that struggles commercially.
While we're at it, maybe it would also be an idea to look at re-instating two way traffic along part of The Kingsway after its junction with Christina Street.
Making Swansea more attractive as a place to visit doesn't necessarily mean huge capital projects and boulevards. Just like any other business with limited resources it comes down to the city being cost-effective and asking itself whether visitors would prefer a big screen in Castle Square or a lot more shops providing restrooms and baby changing facilities.
We should also build on our strengths. For example, when the city hosts its popular seasonal markets, why not extend past the junction with Union Street and also into Whitewalls. I'm sure that a market alongside a relocated Waterfront Winterland, as is currently being suggested, would be quite an attraction as well.
Of course there is also the bigger picture to consider. With the exception of housing association schemes, Swansea has not seen any commercial redevelopment in its city centre for several years. The present economic gloom is clearly a big part of the problem. Yet developers also tell me that Swansea is considered "difficult" with a lack of clarity over its priorities.
I'd like to suggest making a start in putting that right with a plan to tackle the commercial disaster area known as Parc Tawe.
When the designs for the showpiece site were first unveiled back in the 1980s, councillor Richard Lewis described it as "collection of overgrown aircraft hangers". He was ridiculed at the time but he turned out to be right on the money. It was a poor scheme then and it's now well overdue for redevelopment.
Personally, I'd like to see a planning brief for the site to create a designer outlet village similar to the McArthur Glen retail park outside Bridgend. People who live and work in SA1 already make the short walk across the Sail Bridge to get to Sainsbury's. Imagine the kind of footfall that would be generated by lunchtime shopping alone.
I appreciate that site ownership is an issue but it's time to stop finding problems. We should be working together to send out the right kind of message to potential investors.
Just to finish off where I started. We definitely need to compare ourselves with others as often as possible. We also need to compete and I don't care if it's Cardiff or wherever. We can compete by being different and distinctive. We have a lot to offer as a city but we can offer so much more.