Shopping around for success - Part 1
South Wales Evening Post - 6 August 2013
PERSPECTIVE can be a funny thing. The other day I read how customers described the closure of a family-run furniture store in the Enterprise Park as the end of an era.
I understand what they mean but I also recall that the owners were among the first to take advantage of a major shift in the local retail trade that happened nearly 30 years ago.
Swansea's Enterprise Zone, as it was then called, was quite a radical economic measure set up by Margaret Thatcher's government in the 1980s. The aim was to entice service and light manufacturing industries to the area with the lure of up to 10 years free from business rates. It was a runaway success and attracted employers from home and abroad.
Retailers were originally excluded from the package. However things later changed dramatically when Allied Carpets got the ban overturned through a planning appeal. The overnight result was that Swansea had an unplanned and unwanted out-of-town retail park on its doorstep. Traders began to relocate from the city centre to Llansamlet en masse.
As happened elsewhere in the country, more retail parks sprang up and the attraction of several big name outlets located in a compact area with free parking proved irresistible. High Streets in towns and cities in the UK have been fighting a fruitless rearguard action ever since.
On the other hand, some places like Llanelli actually cashed in on the phenomenon. Dave Gilbert, who heads up the regeneration team at Carmarthenshire Council, recently confirmed to me that the highly successful Parc Trostre was not only built to halt the flow of customers headed eastwards to Swansea and beyond but also to ensure that retail chains stayed in the catchment area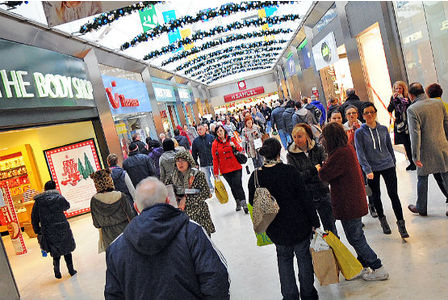 Nowadays, the consensus among regeneration gurus is that the way to attract the shoppers back to town centres is not to compete directly with the opposition but to offer up a more distinctive alternative.
Swansea has signed up to this approach. Even so, quite a number of the business people I meet question whether some of the traffic 'improvements' carried out in recent times are supposed to encourage or deter visitors. A few go as far to say that the city puts too much emphasis on enforcing parking and licensing regulations and not enough on helping the city centre economy.
As I said, perspective can be a funny thing and I think the critics are being a little unfair. Having said that I have to admit that I'm no fan of the city centre strategy introduced some years ago. For me there is too much focus on planning designations and not enough attention given to chasing market opportunities.
Like many others, I also have doubts about the delivery prospects of the Hammersons retail project which has now been on the drawing board for several years. Attracting anchor tenants is always tough and even the out-of-town retail parks are now finding it tough to compete with online traders. With public spending likely to get even tighter it has to be time to look at smarter ways of making Swansea more attractive and a lot more accessible.
Marketing is important, but having a good product is vital. We need to be able to provide a shopping and leisure experience that makes customers want to come back time and again.
Next week I hope to outline some imaginative ideas that I've heard put forward by local business people plus a few of my own.